I was born in Montréal in late March of 1964, where I have lived all my life.

Both my parents were born here as well. My mother is of French-Canadian descent, my father of Italian descent. I was raised in french and educated in english, and because of this I am fluent in both french and english. I also speak some Italian, which I learned in college and university. I consider myself to be French-Canadian.

I have travelled widely in Canada, have visited several areas of the United States and have been to Jamaica. I have never travelled beyond this continent however, a situation I hope to correct in the not too distant future.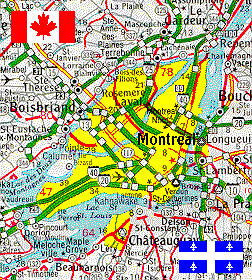 Map: Rand McNally & Co.